Because I am just now offering my services to the public, these are introductory prices. As my skill and reputation grow, prices will most likely go up.
| | | | | |
| --- | --- | --- | --- | --- |
| | Cl | LB/PP | SM | MM/MW |
| Solid colors* | $40 | $30 | $25 | $15 |
| Paints/Pintos/Sabinos, under 50% white | $45 | $35 | $30 | $20 |
| Paints/Pintos/Sabinos, over 50% white | $50 | $40 | $35 | $25 |
| Appaloosas - simple to moderate patterns | $55 | $45 | $40 | $30 |
| Roan | +$5 | +$5 | +$5 | +$5 |
*- facial marking and white on legs included, "minimal" sabinos might apply, inquire with description
ORDERFORM
WANTLIST


Please Read This:
- Modelbody is not included. And sadly I cant help out with buying either since I cant buy Breyers etc in stores here.
- I dont do any prepping so any model I get here to paint should be prepped AND primmed. I can do minor prepping at charge (depends on model).
- Shipping is not included. Please note that I live in Sweden and due to this shipping may be higher than within the US.
- I CAN be bribed to do Tr sized repaints, but mainly for things off my Wantlist.
- I WILL do multiple repaints (up to the same $ amount) for things off my Wantlist.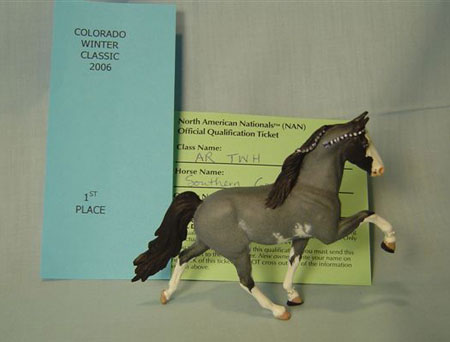 All models are guaranteed to be live show quality, and guaranteed to your satisfaction - I wont send a model back until I would be proud to show it off. Even though my work is guaranteed, I cannot guarantee a color unless I have been provided with a hard copy photo. I will try to take progresspics of your model if you want that.

An order form MUST be included with your deposit and model. You can find it here.

Time payments are accepted. But I need to ask for 1/2 down to begin the model. Balance due is expected upon completion of your model, unless other arrangements have been made.

If payment is not made within two weeks of notification that model is finished, the model will be sold. For 30 days after notification, original deposit can be applied to another model, however, full payment will be required in advance before another model will be started. After 30 days deposit is forfeited.

If a trade is made, each pay shipping for what they are sending. For example, I pay the shipping to you and you pay the shipping to me. In case of new customers I would like some sort of reference.

You may custom order a model to your own specifications, or choose a model similar to one of those featured on this web site. Pinto and Appaloosa patterns cost more than the solid colors and price depends on the extent of the pattern. Some selected trades/partial trades are accepted, see my wantlist.

Turn around time is approximately 3 to 4 months. I do work as fast as I can and try to keep contact on the progress. If you need your model in less than 12 weeks from the time I receive it, then a $30 rush fee applies.

Please, keep your description of the model you are ordering to a minimum. If you want me to match a color or markings, you MUST provide an "original" photograph of the horse. I will not guarantee a color unless I have been provided an original photograph. Emailed photos are NOT true to color! But if you just want one for me to work from you are free to mail me pics via E-mail.


Payments accepted

Paypal is the only paymentway accepted at the moment. You must also be willing to pay the Paypalfee: 3.9% + $0.30 USD. I'm looking into other souces of payment. I won't however ship a model before I reccived payment.

When ordering a model 'similar' to one on this web site or elsewhere or photo of a real horse, keep in mind that your model is a 'work of art'. It is created by a human, not a computer, machine or out of a mold. That means it will not be exact! Even if I wanted to, I could not make a model exactly like another, it will be 'similar'.





















Even if it's not on the list - don't be afraid to tempt me. I LOVE Brigitte Eberl's WB models and I collect mostly WB, TB and pony models. Is also intrested in doll's since my intrest for performance is getting bigger, also performance props could be of intrest.


| | | |
| --- | --- | --- |
| Tack | Breyer | Value |
| English saddle/bridle - Tr & Cl | - | |
| Westen saddle/bridle - Tr & Cl | | |
| Team harness - for "haywagon", Tr size | Peter Stone - Warmblood | |
| Haywagon | D'Artagnan (cremello) SR2007 Matte | $100 |
| | Archimedes (ch) SR2008 Matte | $100 |
| Resins | Luchen Bach (grey) SR2008 Matte | $90 |
| Pasha - SM/LB WB (Sue Sifton) painted (love pintos) or u/p | Babes in Toyland (pinto) SR2007 Matte | $100 |
| Scampolo - Tr WB foal (Brigitte Eberl) painted (love pintos) or u/p | Shotzy (pinto) SR2008 Matte | $90 |
| His Highness - Tr WB (Brigitte Eberl) painted (love pintos) or u/p | Independence (palomino) SR2008 Matte | $100 |
| | Felix (white/grey) SR2007 Matte | $100 |
| | | |